Are you looking for unique gifts for the strong, independent woman in your life?
Check out these five fabulous feminist gift ideas you will find here at Talking Out Of Turn.
From socks to mugs, there's something special for all the fierce feminists out there! So start shopping and show her just how much you support her amazing female power!
---
1. The Perfect Feminist Mug
If you're looking for the perfect feminist gifts, look no further than a mug that says "Feminist!"
A mug is always an appropriate and thoughtful gift, and this mug truly shows the powerful nature of feminism. Not only is it a beautiful feminist coffee mug that screams confidence, strength, and empowerment, it also does exactly what it's intended to do - hold your favorite coffee or tea.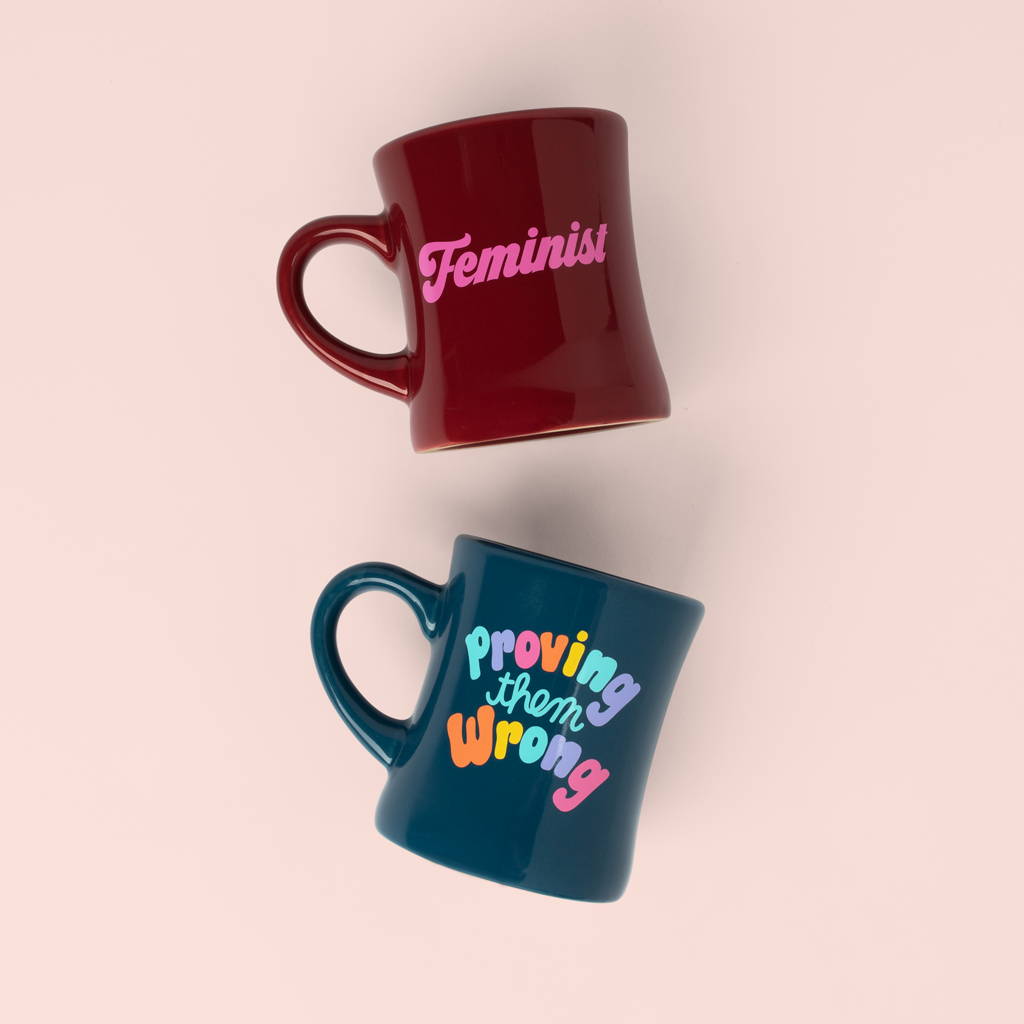 ---
2. Pretty Feminist Tote Bag
A tote bag with a feminist message is more than just an ordinary tote - to carry it is to make a bold statement to the world.
Whether you're carrying groceries, shopping for yourself or going on a travel adventure, having this tote around your shoulder sends out an empowering message and instantly turns you into a powerful symbol of female pride.
With such a fashionable message, you won't have to say a word!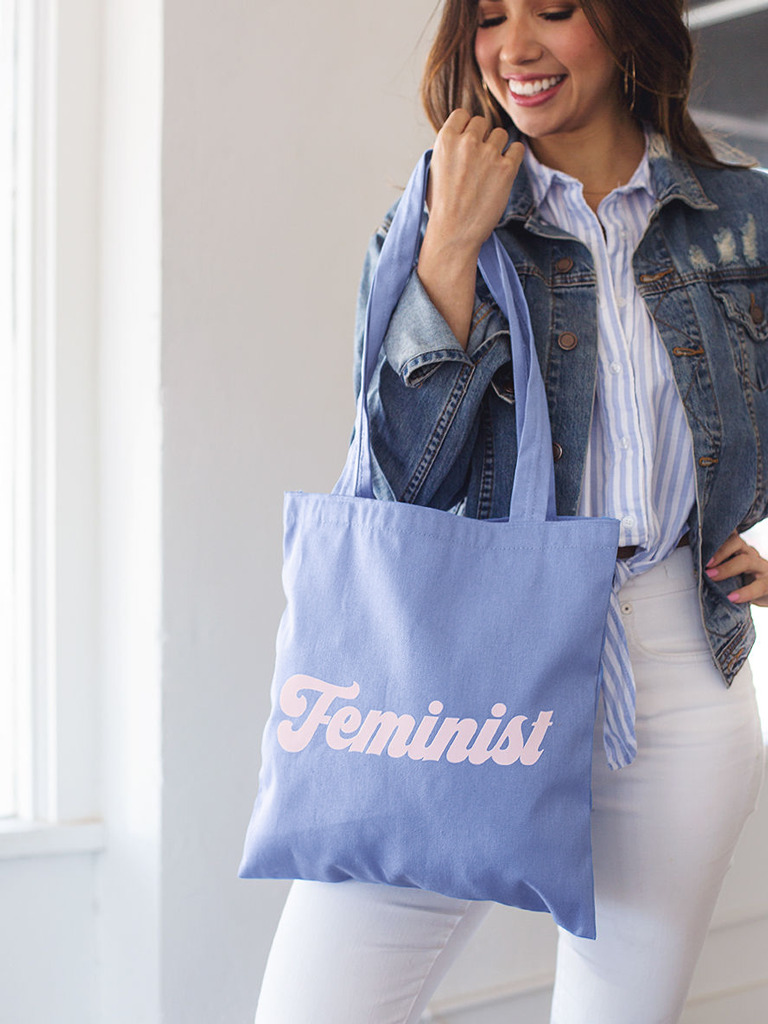 ---
3. Feminist Agenda Notebook
Whether it's for notes, journaling, thoughts, or other writing activities, a notebook with feminist undertones can be a powerful source of motivation.
Not only can you use it to organize your agenda and jot down notes from meetings and lectures, but also to explore and share your own ideas. Join the ranks of women like Ruth Bader Ginsburg, who used their intelligence to make real and important change in women's rights.
Ultimately it is up to you how you decide to use it, but like all notebook users will tell you - its value lies in what you write inside!
---
These socks are sure to bring a powerful, inspiring message every time you wear them.
With a stylish design and empowering slogan, these socks will make sure that no matter what you're doing, your commitment to feminist values is always front and center.
Combining fashion with a powerful message, feminist socks are a must have accessory that everyone should have in their wardrobe to show their girl power.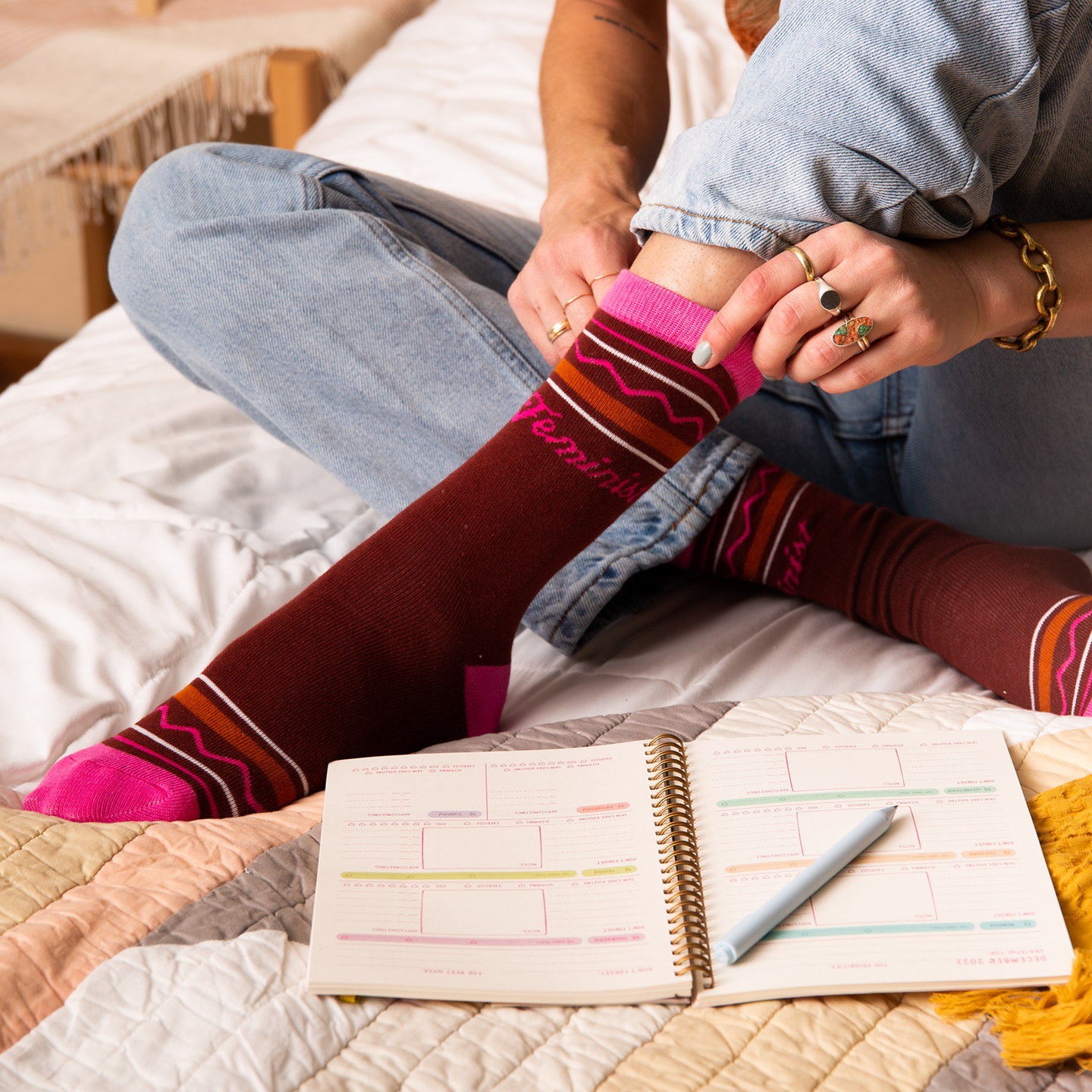 ---
5. Donation to Planned Parenthood or Favorite Charity
Donation is an incredible way to make a difference. The perfect gift is sometimes helping others.
Show your support for women's rights and support the causes you believe in by giving the gift of donation for any special occasion or holiday. Whether it's Planned Parenthood or your favorite charity, donation is a powerful and practical way to give back.
With donation comes the unique opportunity to help those who are most in need: individuals, families, communities and organizations that are working towards a fairer and brighter future.
When you make a donation, you are adding your voice to the many fighting for greater inclusivity and equality. This would make a great gift for the strong women in your life!
---
A "Feminist" mug, tote, agenda, socks, and a donation are all meaningful gifts that show your support for women's rights and equality. Not only are they unique gift ideas, they are will bring joy to strong women.
Support women owned small businesses while shopping too! You will find these thoughtful gifts at Talking Out Of Turn. They are also sold at small boutiques around the country like Diament in Washington D.C.
These gifts will let them know you are on their side and appreciate their fight for equal rights. The best feminist gifts express a powerful message.
Elevate the strength of a modern day feminist with these five feminist gift ideas. Don't forget: no matter what day it is, every day is an incredible chance to watch history be made with empowered women leading the way to gender equality!