Pack for your next trip quickly and easily with these 5 tips.
---
We know we aren't the only ones who love to overpack and tend to stress out when traveling. Here are some of our favorite tips and tricks to optimize and organize your luggage space to make your vacation experience smooth and easy.
---
Use Packing Cubes for Optimal Organization
Packing cubes make it easier to keep your clothes, toiletries, and other items organized and separated. You can sort your clothes by type, color, occasion—whatever works best for you! Our Packing Cubes come in several fun patterns and different sizes to fit your needs, and they're easy to store as they can fold up inside of its included bag. To maximize your space, roll your clothes instead of folding them.
---
Keep Your Important Documents on Hand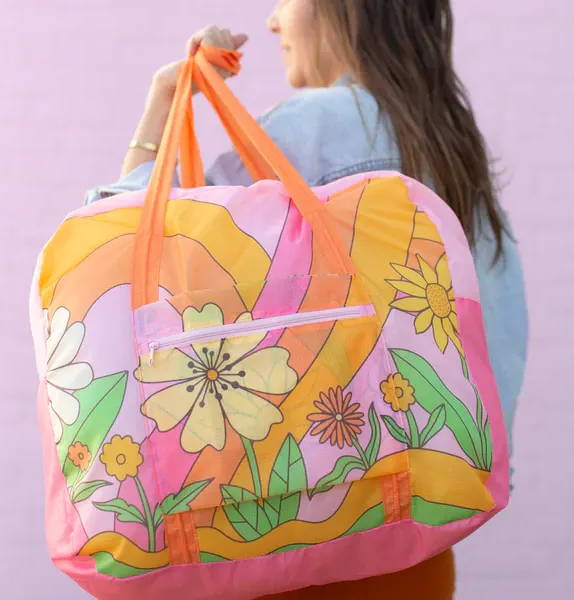 When you need to show your passport, ID, boarding passes, negative COVID-19 tests, and vaccination cards, make sure you don't have to spend too much time rummaging through your backpack looking for them. Keep important documents in an easily accessible pocket of your bag so you can pull them out and put them away in no time. Our Stowaway Bag has the perfect pocket for this purpose and can easily slide onto your suitcase handle!
---
Store Shoes in Separate Bags
A great way to keep your luggage and clothes clean from dirt is to store your shoes in separate bags before packing them into your suitcase. Try plastic bags from the grocery store or shower caps from the hotel room. Our pick? We love the small pouch in our packing cube set!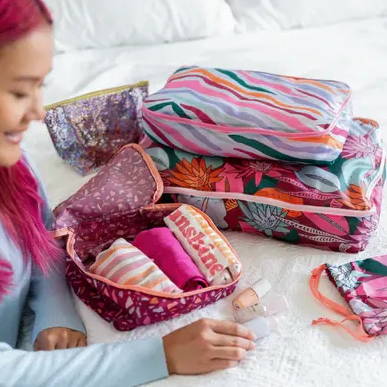 ---
Use Fun-Size Skincare and Makeup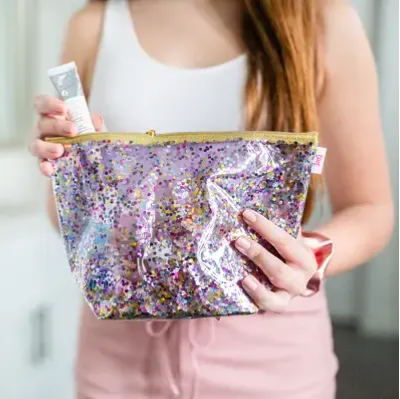 Purchase travel sizes of your skincare and makeup products. This will save space in your toiletries bag and make it TSA-friendly for when you want to refresh on the airplane.
Bonus hacks: Ask for samples of your current skincare products (or try out new ones) from your favorite makeup stores to bring with you. You can even DIY toner pads by soaking reusable cotton rounds in your toner and putting them in a resealable plastic bag.
---
Line Your Luggage with Dryer Sheets
Keep your clothes and luggage smelling fresh by adding a few dryer sheets throughout your suitcase. It's a travel-friendly way to keep your luggage fresh. Double hack: the dryer sheets are also a great way to get rid of deodorant stains on dark clothing.
---
Traveling should be a fun experience, and stressful packing shouldn't take away from that. We hope you use these tips and have a great time on your trip. If you have any tips of your own you'd like to share, leave a comment below!